Are you feeling unfulfilled in your career? Do you wake up each day dreading the notion of going to work? If so, you are not alone. Career fulfilment is something that many people find elusive. The good news is that there are steps you can take to become more fulfilled. 
In this blog post, we'll cover seven practical strategies that you could take to attain greater fulfilment in your profession. Whether you're just starting out in your career or you've been working for years, these steps can help you identify your passions, match your job with your beliefs, and establish a happy and meaningful professional path. 
So let's get started and learn how you can shape your work and achieve more happiness and fulfillment in your career. But before that, bear these points in mind:
As professionals, we are more likely to get results if we're doing something we love.

Have you considered what brings you joy? What brings you fulfilment?

If you have, can you think of ways to bring these elements into your work each day and over time?
Now let's roll off to the main discussion. Take a look at these 7 practical steps you can take to achieve greater career fulfilment.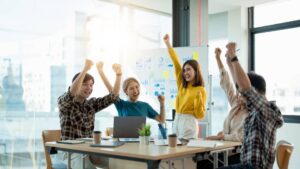 7 WAYS TO ACHIEVE CAREER FULFILLMENT
DO SOMETHING YOU LOVE
:
"Is this valid?", you may ask. Can I realistically bring the things I love into my work and my career? Won't that breach my employment agreement? 
When you are doing something you love, you are more likely to feel a sense of purpose and meaning in your work. When you love what you do, you are more motivated to do it well. This can assist you in maintaining your commitment to your work and your focus in the face of obstacles or setbacks.  
When you are passionate about your work, you are more likely to approach problems creatively and find innovative solutions. This can help you stand out in your field and achieve greater success. 
Doing something you love can improve your overall job satisfaction and make you feel more fulfilled in your career. When you are passionate about your work, you are more likely to seek out opportunities for growth and development. 
All of this can lead to enhanced performance and success overall. What's not to love?
When we're looking for fulfillment, this doesn't always have to be about big changes. Often, tweaks in terms of the content of your role or who you work for can make significant changes to how you feel.
If, however, you are contemplating doing something completely different, click here to learn more.
MAKE USE OF YOUR PERSONAL STRENGTHS AND SKILLS:
Are you familiar with your personal skills and strengths? Many of us hardly give these a second thought much of the time. What can knowing your skills and strengths help you achieve? Knowing that you have valuable skills and strengths can boost your confidence in your abilities and help you feel more self-assured in your career. This, in turn, can help you be more productive and efficient. Also, identifying your personal skills and strengths and finding ways to optimize their use can be a great way to achieve success in your career.
DISCOVER WHAT SUCCESS MEANS TO YOU:
Success doesn't always look the same to each of us. It may also evolve through different phases of our careers and lives.
Have you defined your personal definition of success? Doing this can help you create career success by giving you direction and clarity, whether it is a job title, specific financial goals, or something else that tops your list. Knowing what success means to you can boost your desire and attention, improve your ability to make decisions, increase your job satisfaction, and give you a greater sense of purpose. You can build an enjoyable and meaningful professional journey that fulfils you, and taking the time to determine your personal definition of success is a crucial first step.
FIND WAYS TO SERVE OTHERS:
Working with and serving others can be very fulfilling in itself. You can also develop connections and networks that are beneficial for your career by serving other people along the way. By lending a hand to others, you can build reputation and trust, which may additionally open up new doors and connections for you. Serving others can range from 1:1 support to helping whole communities – you get to choose. Whoever you choose to serve, it can help you boost exposure and acceptance, develop abilities and expertise, cultivate a positive reputation, and give you a sense of direction.
MAKE A DIFFERENCE:
Most of us are searching for some kind of meaning and purpose in our lives and through our work. Understanding how much your work can bring to others or the intrinsic value it creates, can motivate you to be even more engaged in your job. You're eager to ensure your impact is always felt, and you tend to find ways to make bigger impacts. Have you found out how your job makes an impact? If you're having challenges knowing how to impact positively, you could consider taking our Influencing for Impact course. 
TAKE POSITIVE ACTION:
What length can you go to ensure you're achieving your career goals? While you're also aiming to achieve your goals, do you also take time to check if your actions are positive? Make sure you break down these actions into baby steps to avoid overwhelm or burnout. Maintaining a network of positive and like-minded people can also give you the encouragement you need to better achieve your career goals.
BEGIN WITH THE END IN MIND:
You can either plan to fail or fail to plan; make a choice from the beginning as to where you want to end, set your goals with time in mind, and keep note of indicators of your achievements. It's never too late to do this: "The best time to plant a tree was 20 years ago. The second best time is now." – Chinese Proverb. We don't always have the hindsight to do this or the space. However, give yourself the gift of time with a 30-minute free career discussion. Claim yours today and you never know where you may end up.
In conclusion, achieving career success often involves taking intentional steps, rather than coming by chance alone. While it is possible to use these 7 steps to achieve success in your career, it is also beneficial to talk to a professional career coach to help you uncover strengths and skills you might be unaware of, masking, or taking for granted. You can also check out our essential skills courses – pick the one that best relates to your current career challenges to empower and enable you.
Do you find this post informative? Don't miss out on future posts, click here to get notified when we post in the future.