I hate to say this, but…
It's not just what you know, it's who you know.
It somewhat still surprises me that "who we know" can factor in many important decisions. Our decision-making capability comes from the heart as much as through our heads.
Throughout my working life, much of my work has come through people I know. People I already have some kind of relationship and rapport with.
I know I'm not alone in this.
The "hidden market" is still a rich and effective source for jobs as it is for getting business.
Some of these relationships are current and directly work specific, but not always. These relations can also date all the way back to the start of my career or are from non-work-related areas.
So, with this in mind, what can we proactively do to shape and enhance our networks?
I'm proud to say that I'll be running my Network like a Ninja masterclass for the Convoy Community later this week.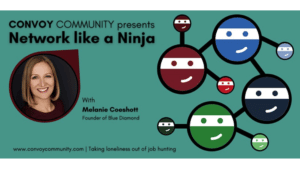 We'll be exploring who we want in our network and most importantly, how to build and nurture a network that works for us.
And it's not all about traditional networking, I use various different techniques to build and enhance my own 😊
If you could do with building your network, join us this coming Thursday 3-4.30pm. to learn how
Sign-up now to secure your place.