Managing a remote workforce
Has Covid forced your team to work from home?
Are you managing a remote workforce?
Many of us have significantly changed the way we work over the last year. In fact, few of us have had little choice in the matter.
Working from home – a 'privilege' previously reserved for certain people and positions in the past, became mainstream when the pandemic first struck. People and organizations have had to adapt in order to survive and thrive.
Some people have thrived in this changed environment.
However, like many things in life, it's been far from plain sailing for everyone.
I'm pleased to say that I was a guest on Rob Da Costa's The Agency Accelerator Podcast, which went live last week.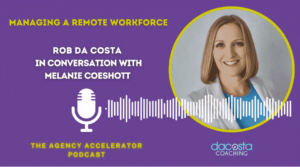 We talked about managing a remote workforce and discussed some of the things we need to do to keep staff motivated and connected.
I may be biased, but it's definitely worth a listen.
Check it out here!